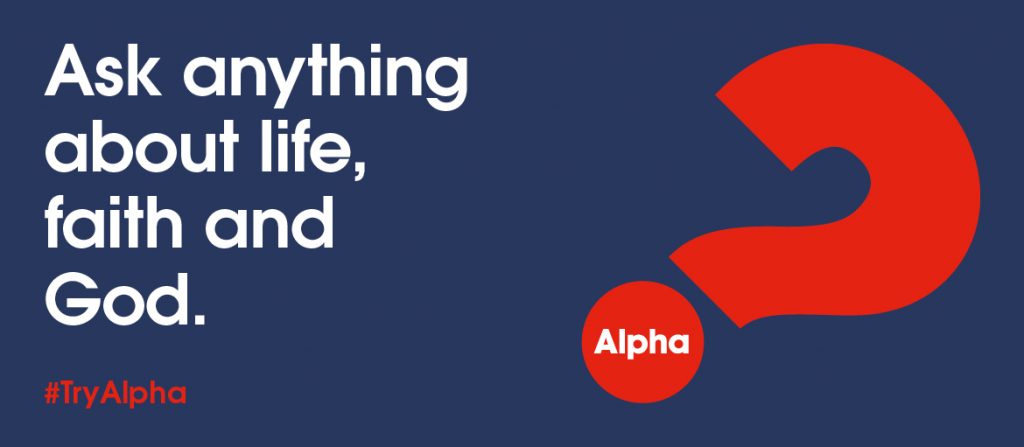 The Alpha course explores life and the Christian faith in a relaxed, informal setting. Come make friends and ask questions about life, faith and meaning. Each week there is a short presentation, followed by discussion in small groups.
WHEN AND WHERE?
We are running Alpha online for 11 weeks on Sunday evenings from 6.15 – 7.30 pm.  We will kick-off on Sunday, 10th January 2021 with an introductory evening.  Please note that you can sign up anytime over the first few weeks even if you miss the introductory evening.
WHAT'S INVOLVED AND WHO IS IT FOR?
Alpha is for anyone who wants to investigate Christianity and also for new Christians and people who want to reconnect with God.  It is a free course of eleven sessions looking at topics such as Who is Jesus? How do I have faith? Why and how to pray? Why read the Bible?
PROGRAMME
Week 1 – Introductory session with a short talk – "Is there more to life than this?"
Week 2 – Who is Jesus?
Week 3 – Why did Jesus die?
Week 4 – How can I have faith?
Week 5 – Why and how do I pray?
Week 6 – Why and how should I read the Bible?
Week 7 – Who is the Holy Spirit? / What does the Holy Spirit Do? (2-hour session)
Week 8 – How can I Be Filled with the Holy Spirit? / Does God Heal Today? (2-hour session)
Week 9 – How can I resist evil?
Week 10 – How does God guide us?
Week 11 – What about the Church?
REGISTER
For more information, please complete the form below or email us using the following address: info-alpha@newlifeassembly.org.uk
All fields with a red asterisk* need to be completed before submission.